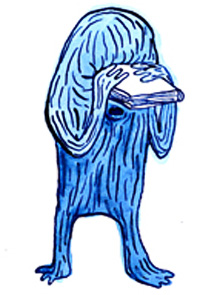 We've had our eyes on Swiss designer and illustrator Anna Haas for a long time – ever since she spent some time living in Berlin, actually – so when it was time to decide on a designer for our current issue with Michaël Borremans, we instantly knew that the moment had come.
Obviously, we really like playing with the format of the magazine, and we like posters and pages unfolding and so on, but what we really like are strong ideas that relate to the content of the interview. And with the understated subtlety of Borremans' work, we knew we needed something that was simple yet slightly mysterious at the same time. So when Anna proposed to reproduce Borremans' paintings in real size, on a scale of 1:1, which is rather ludicrous within our small format, we knew we had hit jackpot – a great idea that refers to the text on so many different levels, without being flashy or self-important. Which is just like Borremans' work, and in fact, he agreed to it before we could finish our sentence to pitch him the idea ('Oh, what a cool idea, let's do it!'). It's simplicity at its best, and one of those moments that made us really happy.
See more of Anna's work here.