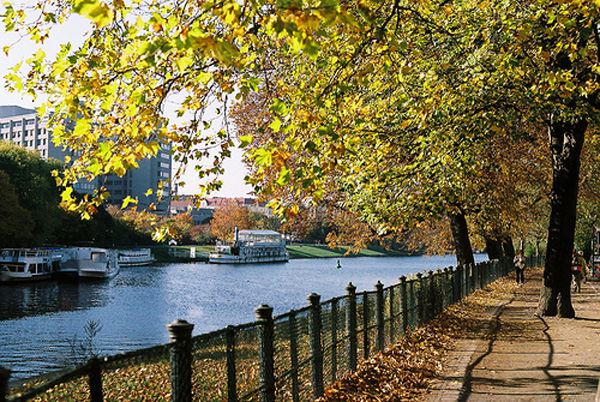 The Spree may be Berlin's best-known waterway, but the Landwehrkanal is probably the city's best-loved.
Graceful long-fringed trees drape a green curtain over the canal's banks, providing shade for the lovers and dreamers who stroll along the esplanades. Swans neck and fight in the water. At Maybachufer, along the Neukölln stretch of the canal, the bi-weekly Turkish market draws fruit and fabric customers in their thousands. On the Admiralsbrücke, which passes over the canal in Kreuzberg, hundreds of young folk squat on the stony pavement drinking and chatting into the night, infuriating nearby residents but enthralling the visitors. Though it was built as an artificial waterway, the Landwehrkanal has become an essential part of the natural and communal biology of the inner-south of Berlin.
This Saturday a group of Berliners will take to the Landwehrkanal in a flotilla of small boats to express their concern about the waterway's future. The 'Paddle Parade' is a unique style of demonstration against what participants believe is the domination of the Landwehrkanal by private interests, namely the tourist boat companies that run large sight-seeing ships through the canal.
Three years ago, it was noticed that the sides of the canal were being eroded. Rather than focus on the large number of cruise boats that constantly motor through the canal, the waterways authority turned their attention to the trees that sit on the riverside. It began chopping down large trees, blaming them for the erosion. The Wasser- und Shifffarhtsamt Berlin had marked out 200 trees to fell, but community campaigners intervened and saved the majority.
Yet the issue remains unresolved. The canal remains under the control of the cruise boat companies, according to the campaigners. They are calling for only zero-emission water vessels to be allowed along the canal, improved recreational opportunities on the waterway, better water quality and environmental improvement, and better walkways and bikeways along the banks.
If you agree with the Paddle Parade's goals, grab a boat of any variety (as long as it's not powered by fossil fuels) and head along to Urbanhafen at 13.00 on Saturday July 3.
Can't find a boat? Try here!