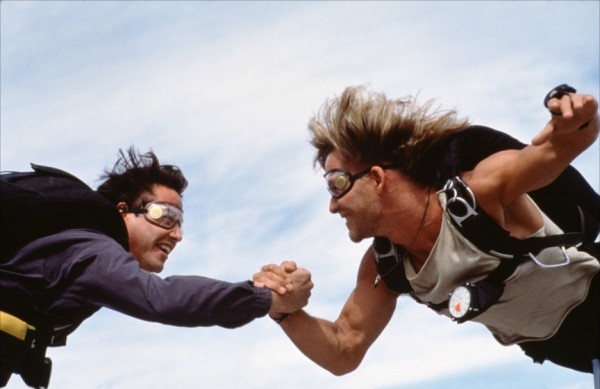 Forget Pirates of the Caribbean: At Stranger Tides, Thor, or Transformers 3. The real movie to see this summer is Point Break, part of the Museum of Modern Art's film series Crafting Genre: Kathryn Bigelow. If you haven't see Bigelow's cult classic, starring Keanu Reeves as Johnny Utah, straight-laced, All-American FBI agent turned skydiving surfer bank robber, well, obviously, you're missing out. It also stars Gary Busey, Patrick Swayze, and Anthony Keidis. And has a suicide by wave.
But, as silly (and awesome) as it may sound, Point Break is simply another example of Bigelow's conceptually canny genre play. A surfer/heist movie, Point Break is a hyperkinetic celebration of the adrenaline rush, whose premise is as jacked up as its characters. As Jenny He, and Curatorial Assistant in MoMA's Department of Film and the organizer of the series, Bigelow "transforms the language of genre and challenges audiences to rethink filmic iconography." A sci-fi noir set in 1999 Los Angeles, Strange Days stars Ralph Fiennes as Lenny Nero (Bigelow's characters always have great, Pynchonian names), a shady dealer of "wiretrips," or recordings of someone's direct experiences. The film opens with a thrilling POV robbery, whose jagged, jarring ending immediately introduces the film's self-reflexive examination of the nature of spectacle.
MoMA is screening most of Bigelow's films throughout the summer, and will also devote a gallery to Bigelow's working method, which is heavily informed by her background in fine arts (she studied painting and conceptual art in San Francisco and New York, and worked with the collective Art & Language). I cannot imagine a better Saturday movie-going experience than seeing Keanu Reeves state, in that perfect SoCal bro voice of his, "You're sayin' the FBI's gonna pay me to learn to surf?", in the basement of MoMA.
Crafting Genre: Kathryn Bigelow
June 1st – August 13th 2011
The Museum of Modern Art, New York
Film still from Point Break