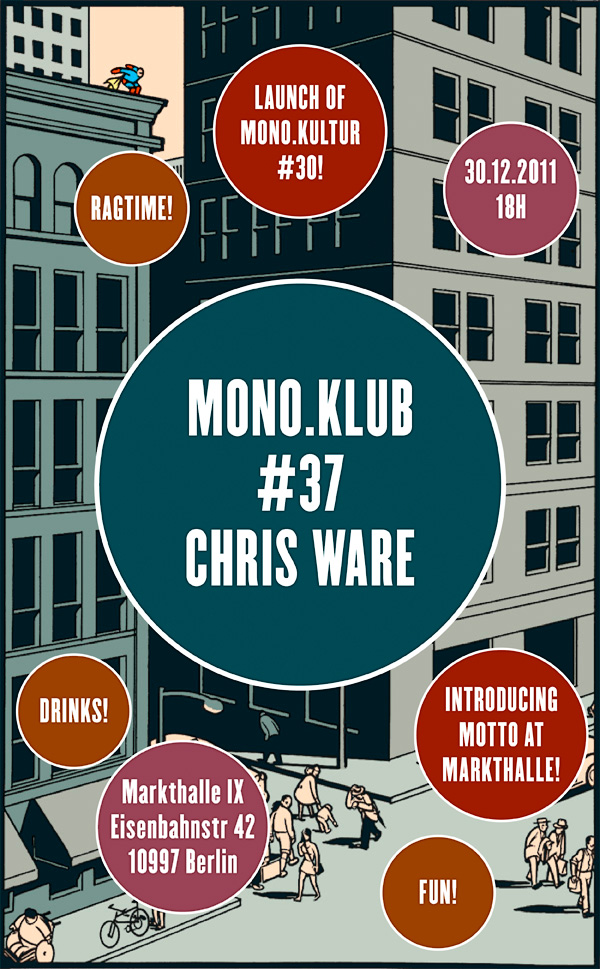 Dear Friends,
it's been 2.5 years – and this is the moment where you are allowed to sigh, has it really been that long and doesn't time fly? Well, yes, we think with 2012 in sight, we can safely say it does and every year a little faster – anyway, it's been 2.5 years since we had the honour to inaugurate Motto's Berlin store with the launch of our 20th issue. So it feels only appropriate to combine the launch of our 30th issue featuring the marvelous Chris Ware with the inauguration of yet another Motto Berlin space, more accurately its lovely little wooden outpost at Kreuzberg's Markthalle IX, which we're certain you will be hearing a lot more about in the coming year, with its measured reinvention as a local treasure in full progress.
And this being our 30th issue, what better date than to celebrate on the 30th of December, since this is one of our favourite times of the year, and any excuse to warm up for the following night's celebrations is fine with us. Our friends at the pop-up bar Chez Icke will be serving hot drinks and good vibes, our favourite DJ Ute has stocked up on her ragtime catalogue to pay homage to master Ware's favourite tunes, and of course, you will finally get to lay your hands and eyes on our latest effort, mono.kultur #30 indeed.
And so we say: Expect Ragtime! Expect Glühwein! Expect fun! Bring warm clothes! It's the end of 2011! It's the start of our 30s! Let's celebrate!
mono.klub 37: Chris Ware
Launch Party for mono.kultur #30!
Introducing Motto@MarkthalleIX!
Friday, December 30, 2011 / from 18h
Motto@MarkthalleIX
Eisenbahnstrasse 42/43 & Pücklerstrasse 34
10997 Berlin