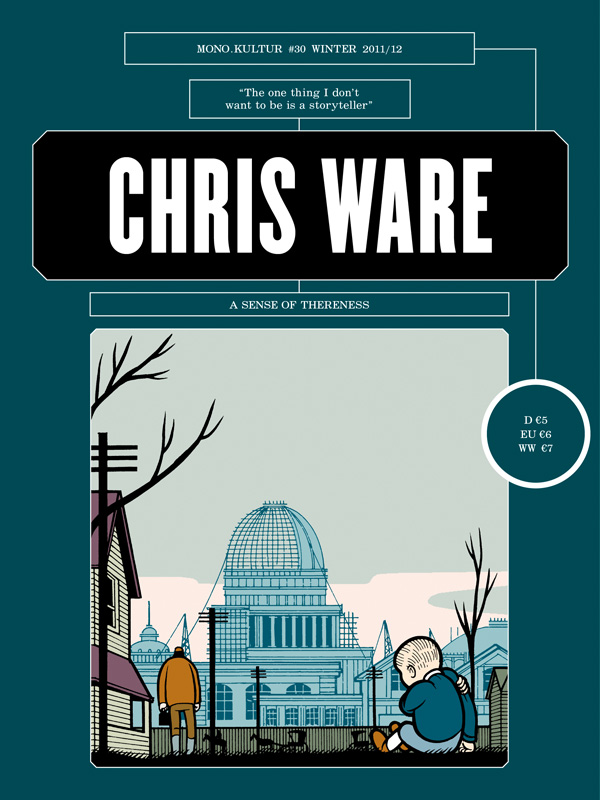 Dear Friends,
yes, we made a promise, and we hold to it: Two days before Christmas Eve, we proudly announce our new winter issue, our first winter issue to appear before Christmas since 2005, in fact, featuring the wonderful Chris Ware. Who is Chris Ware, you ask?
We'll get to that in a minute, but before we forget, we wanted to mention that we will be celebrating this issue in 2011, that's right – on the 30th of December, to be precise; not only because it seemed appropriate to launch our 30th issue on the 30th of December, but also as a little warm up to the final step into the new year. Watch this space for more information coming right after Christmas, but in the meantime, SAVE THE DATE: December 30th, from 18h, at Motto's new little outpost in the Markthalle Kreuzberg.
Fine, you say, but who is Chris Ware? Well, then: Chris Ware draws comics – but not the kind of comics you know. Chris Ware's comics are about sad children, lonely outcasts and depressed superheroes. In meticulously and painstakingly detailed artwork, they draw the world as a dark and lonely place in suitably muted shades. It is a world of defects and deficits, of social isolation, emotional pain and personal failure in modern life. And yet, they are so utterly intriguing and hopelessly charming that one can't help but feel something akin to true joy when reading Chris Ware.
Working as an illustrator to many venerable titles, such as The New Yorker, it is with his graphic novel Jimmy Corrigan – The Smartest Kid on Earth that Chris Ware gained worldwide acclaim, beyond the usual comic circles and was in fact the first graphic novelist to be awarded the Guardian First Book Award in 2001, as well as being the first comic artist invited to participate at the Whitney Biennial. Since then, he has been developing a series of ongoing stories over hundreds of carefully crafted pages in his self-published Acme Novelty Library, while the boundaries of comics as we know them quietly extended a little further outwards.
Chris Ware talked with mono.kultur about writing versus storytelling, the death of irony and our collective refusal to grow up.
This issue comes with a beautiful concertina for an overview of Chris Ware's artwork, folding and unfolding in ever so many ways.
And of course, as usual, all orders from now on will include our beautiful calendar for 2012.
Have a great holiday everyone, and we'll see you just before the New Year.
With kind regards,
mono.kultur
–––
mono.kultur #30
Chris Ware: A Sense of Thereness
"The one thing I don't want to be is a storyteller."
Buy Online
Interview by Urs Bellermann / Artwork by Chris Ware / Design by Studio8
Winter 2011/12 / English / 15 x 20 cm / 28 Pages & Concertina & Separate Dust Cover