As a former distributor emptied their warehouses, a few rare and long out of stock issues made an unexpected appearance at our doorstep, which means there is a rare opportunity to fill some holes in your archives of mono.kultur. But hurry, since some of these we literally only have a handful of copies to spare.
mono.kultur #17:
PAWEŁ ALTHAMER: PLAYGROUNDED
mono.kultur #17 is dedicated to the eccentric Polish artist Paweł Althamer, one of the most exciting and important minds among a flurry of contemporary Eastern European artists. Evolving from sculpture to more concept-based interventions, Althamer is famous for his unusual and often ironic way of approaching art. Be it by inviting art students to generate the content for his solo exhibition at the Centre Pompidou or by creating a path leading literally nowhere for sculpture projects muenster 07, Paweł Althamer always succeeds in disappointing your expectations and confounding art and reality.
Order here.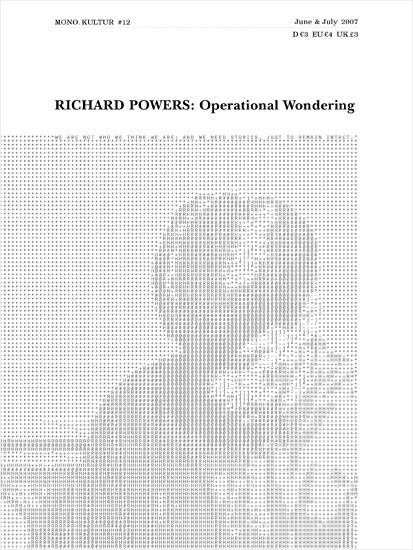 mono.kultur #12:
RICHARD POWERS: OPERATIONAL WONDERING
Richard Powers is one of the most important voices in American fiction today, often being mentioned in the same breath as Thomas Pynchon, Don DeLillo or David Foster Wallace. His ninth novel, 'The Echo Maker', won the acclaimed National Book Award and was nominated for this year's Pulitzer Prize. As well as a stunning sense of language, Powers has a unique gift for interweaving fact and fiction, drawing upon diverse areas of science and history as an archive of ideas and metaphors for the human condition.
Order here.
mono.kultur #10:
BAHMAN GHOBADI: THE POETICS OF POLITICS
We are especially proud to dedicate our tenth issue to the Kurdish filmmaker Bahman Ghobadi. Little known in the West, the director of sombre and poetic masterpieces such as 'A Time for Drunken Horses' or 'Turtles Can Fly' combines documentary realism with visually sophisticated fictions about the life in the Kurdish border country between Iran and Iraq. He has won numerous film awards such as the Caméra d'Or in Cannes 2000 or the Peace Film Award at the Berlinale in 2005.
Order here.