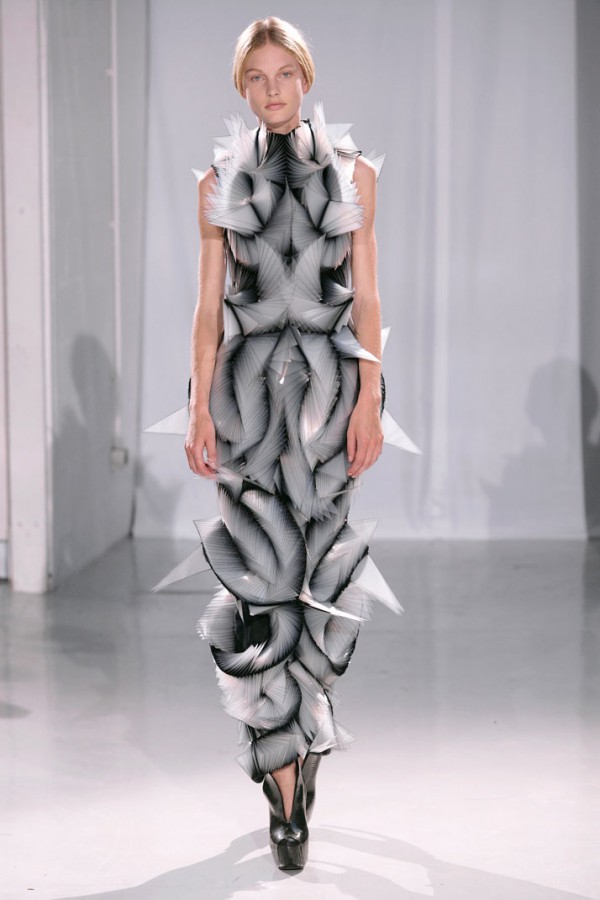 1 R.I.P. Alexander Mcqueen.
2 Democratically or not, today's sartorial companies increasingly busy themselves with producing competent chic for the lowest common denominator leaving the modern modester to angst over the fate of haute couture.
Never fear: Iris van Herpen will provide your inner sartorialist ample relief.
Though the Dutch designer is just 29 years old and her house only 6, her scientific methodology, innovative instincts, and exploration into the possibilities of form and material deserve comparison with veteran Issey Miyake's technological technique and have won her membership in the Chambre syndicale de la haute couture.  Like the bizarre juxtaposition of images her name conjures, her 3-D printed designs are exercises in aesthetic dialectics, rendering natural forms into ultramodern armor and delicate exoskeletons.  Unlikely to be seen anywhere but the runway for a while, Herpen's clothes don't dehumanize their wearers–an even more impressive feat.
3 For more heady fashion, look up Philip Treacy.  Enjoy the pun.