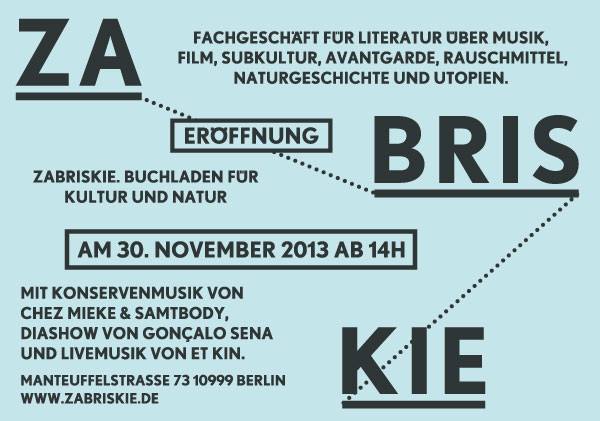 For someone to whom books are never enough, the news of a new bookshop opening in the neighbourhood sounds like party. Good party!
This Saturday, pop by Manteuffelstrasse 73, in Kreuzberg, for the opening of Zabriskie, the new bookshop of Lorena and Jean — or what promises to be a relaxed wintery afternoon, with music, cakes, books and shhhhh… we heard mono.kultur will be there too.
Zabriskie is a bookshop dealing with cultural phenomena, which remain below the mainstream radar; extraordinary music, films, photography and visual arts; counter culture; drugs; the avant-garde; drop-outs and outsiders; magic; the more bizarre, exotic and interesting side of cultural and natural history; utopian societies and alternative experiences in nature. You'll find a hand-picked selection of beautiful books concerning these themes – at affordable prices. As well as the non-fiction, it'll also present a range of publications and editions from small artistic publishers.
In addition to books and magazines, they also promise to have the finest coffee, home-made cakes, a cosy seating area, concerts, readings and book presentations.
See you there.