The unexpected encounter with the demon Humbaba – the guard of Cedar Forest whose intestines are on his face – from the epic of Gılgamesh triggers one to think about our perception of body, the Zeitgeist and the representations in various cultures… Nowadays, the notion of body is in a vigorous metamorphose with the digitization, new technologies such as interface programming or 3D Mapping – say, the social media, as well. Our private and public as well as essential inside-outside dichotomies are being blurred – or are not?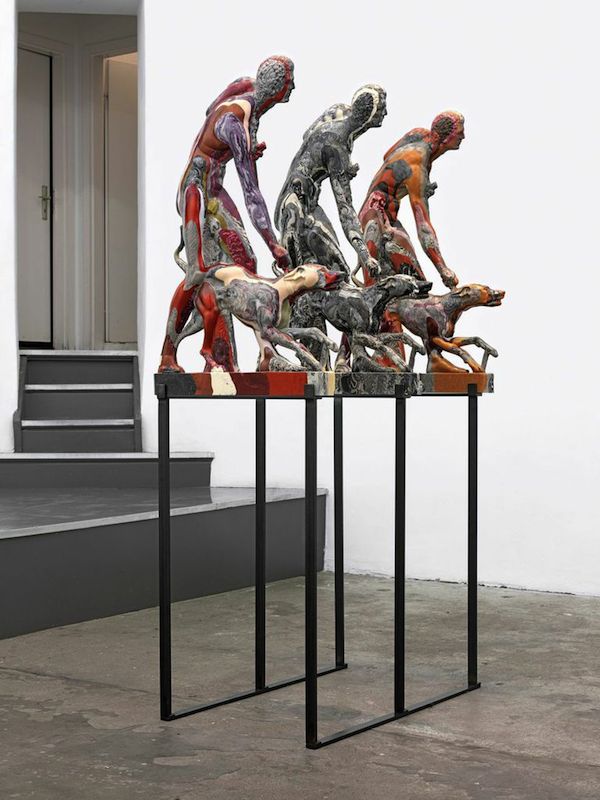 For the exhibition at Tanya Leighton Gallery, Oliver Laric was influenced by Rosi Braidotti's book Metamorphoses: Towards a Materialist Theory of Becoming (2002) that questions the general notions of dichotomies and encourages non-fixed positions between categories such as gender and race, or human and non-human.
In Laric's yet to be titled video (2014) we encounter with hybrid existences, forms and bodies transmuting into one another; an old man metamorphoses into a baby, a beast into a tree, a man into a bear, a kid into a cyborg, a woman's breasts into a monster, a piano into a cabinet and an oven, a robot into a dog… Although faces melt and/or disappear, the metamorphoses happen without a hitch. The resplendent characters of Laric lose their identity, color, background and even shape; codes of gender, race, excepted bodily forms can no longer be ostensible… The eye accustomed to label in order to categorize is daunted by a vague vision.
For the sculpture series The Hunter and His Dog, 2014, the artist uses a new technology – 3D scanning – to 'copy' the original of John Gibson's sculpture with the same title from the collection of the Usher Gallery, Lincolnshire. By digitizing artworks and artifacts and adding new material and color, the object loses its singularity, history in the hands of the artist. Both works of Laric in the gallery are from a new world in transformation/metamorphose that engulfs us in with or without our acknowledgement. Objectification is being altered – reminiscent of the theories of Speculative Realists Bryant, Srnicek and Harman claiming that incorporeal and corporeal equally capable of having effects on the world.
*courtesy of the photos: Oliver Laric and Gallery Tanya Leighton