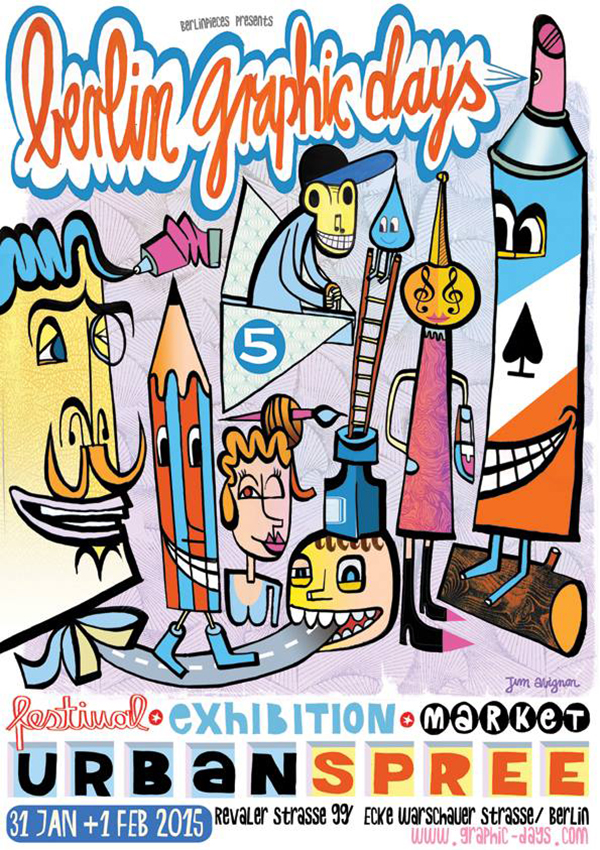 This weekend more than 50 national and international designers, artists, and illustrators will present their creations at the 5th edition of the Berlin Graphic Days, taking place at Urban Spree in Berlin. A great chance to not only see, but also buy unique pieces of art, screen printing posters, T-shirts, books, paintings and a lot of original graphic works. With live painting shows, DJs and food.
This Winter Edition has a special focus on France with 25 invited French artists.
This year's headliners include Jim Avignon, Lars P. Krause, Bender, Stab, Agrume, Annabelle Tattu, Khwezis, Romain Froquet, Mister X, Leyto, Hannah The Random, Djalouz, Resoner, Pablito Zago, Marco Wildner, Flocke//Art, Nikkifaktur, Anka Büchler, Robert Richter and many more artists.
Berlin Graphic Days #5
Saturday 31.01.15, 1-10 pm
Sunday 01.02.15, 1-8 pm
Urban Spree, Revaler Straße 99, 10245 Berlin
Opening party:
Tonight at 9 pm at Konzulát, Leipziger Straße 60, 10117 Berlin – more information here.
Poster design by Jim Avignon