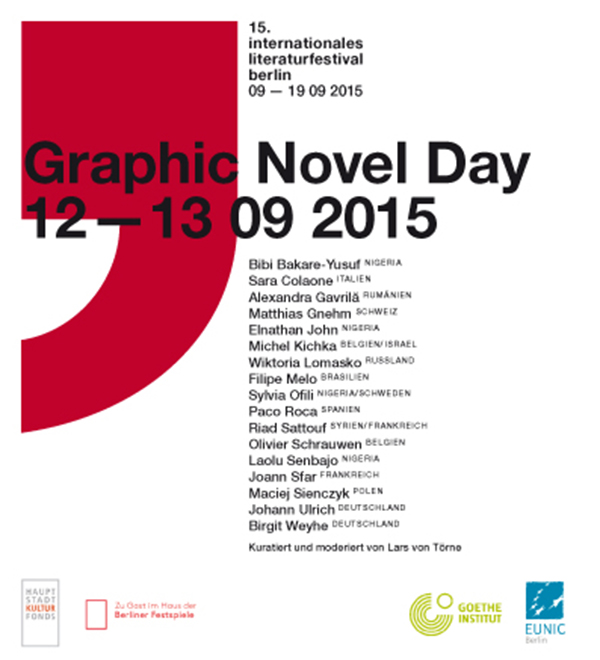 Today's highlight: The Graphic Novel Day in Berlin!
For the 5th time, the internationales literaturfestival berlin (lib) presents the Graphic Novel Day at the Haus der Berliner Festspiele which will have national and international graphic novel and comic artists as its guests. The event which has been organized in cooperation with Tagesspiegel editor and comic specialist Lars von Törne is a regular feature of the ilb program.
Not only does the Graphic Novel Day aim at highlighting the large variety of this increasingly popular art form but also at visualizing the current trend developments in artistic design and the choice of topics as well as presenting German and international exceptional talents.
Following artists are among this year's guests:
Bibi Bakare-Yusuf [Nigeria], Sara Colaone [Italia], Alexandra Gavrilă [Romania], Matthias Gnehm [Switzerland], Elnathan John [Nigeria], Michel Kichka [Belgium/ Israel], Wiktoria Lomasko [Russia], Filipe Melo [Brazil], Sylvia Ofili [Nigeria/ Sweden], Paco Roca [E], Riad Sattouf [Syria/ F], Olivier Schrauwen [Belgium], Laolu Senbajo [Nigeria], Maciej Sienczyk [Poland], Joann Sfar [F], Johann Ulrich [GER] and Birgit Weyhe [GER].
The single ticket (8/6/4 €) is valid for all events of the Graphic Novel Day on September 13, 2015.
All events will be held in English – please find the full program here.
Haus der Berliner Festspiele
Schaperstrasse 24, 10719 Berlin
September 13, 2015, 11 am–5 pm