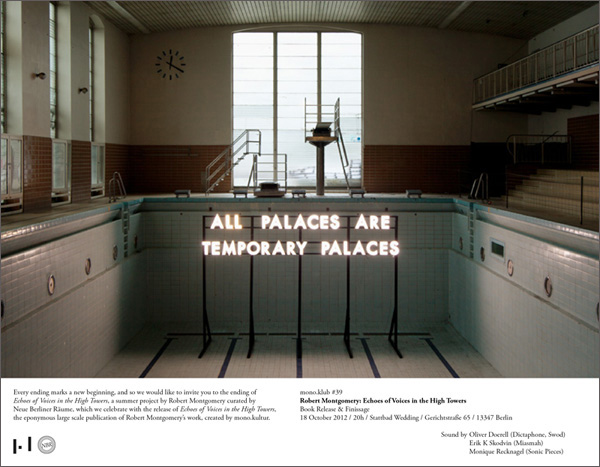 Dear Friends,
after months and months of gathering images, words, funding, papers, thoughts, data, and oh so much more, the time has come to finally present our first ever artist publication with, of course, Robert Montgomery. Large in format, big on images, and beautiful with words, it is the first comprehensive publication on Robert Montgomery's works past and present.
Published on the occasion of the last days of his Berlin summer project, Echoes of Voices in the High Towers, curated by Neue Berliner Räume, what better setting to celebrate the eponymous publication than in the light of Robert's installation in the grand former swimming pool of Stattbad Wedding. It is the last chance to see the installation, and the first chance to see the book, since every ending marks a new beginning.
Drinks will be provided by our friends at Pampero Colectivo, while the evening will be accompanied musically by a triple ticket of a particularly fine slice of Berlin's music scene, consisting of Oliver Doerell (Dictaphone, Swod), Erik K Skodvin (Miasmah) and Monique Recknagel (Sonic Pieces), who will share some sonic treasures with us. And yes, as they say, the artist will be present.
Say goodbye to Echoes of Voices in the High Towers, the exhibition, and hello to Echoes of Voices in the High Towers, the book. We look forward to celebrating with you,
mono.kultur
–––
mono.klub #39
Robert Montgomery: Echoes of Voices in the High Towers
Book Release & Finissage
Thursday / 18 October 2012 / 20h
Stattbad Wedding
Gerichtstraße 65
13347 Berlin